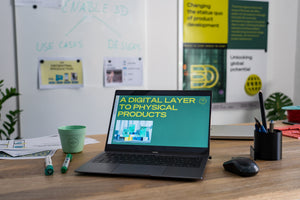 Enter the Future of Production
Start your project together with us
Innovating hardware businesses can be tough. We believe that the next wave of innovation will arise from use cases around the product.
Let's explore togehter how we can support your brand towards sustainable innovation based on coproduction and circularity.
Sustainability
Brands compete against each other for the fastest and best way to become sustainable. We support you on your way with decentral production and circular materials.
Innovation
Additive manufacturing can be the accelerator for the digitalization of your brand and company.
Customer Access
Gain access to your product's end users and their feedback without the limitations of retail systems. Provide added value to your target group.
Enable 3D is the digital layer to your physical products. In collaboration with you we apply additive manufacturing to enable the circular economy for a more sustainable world. Based on the use cases of your customers we develop and market 3D printing designs like storage solutions, accessory and lifestyle products. Together we reshape value chains with 3D print-at-home solutions.
During a the development process we analyze internal resource potentials to use for the filament production. With this focus on circularity we can save prescious resources and integrate them into the development project.
In addition the focus on decentral user-led production will decrease transport and supply chain distances and often eliminate waste of not necessary products and accessories.
In each project we need to discover together how we can leverage the approach of Enable 3D for good.
Feel free to contact us any time at hello@enable-3d.com or use our form. First of all we work on the specific use case and how we can add value for the user together. We are happy to host workshops worldwide and our hub in Frankfurt, Germany.
Afterwards we work on the individual product solution during the design phase. Finally we focus on content production and story telling for the launch.
Depending on the scope of the project the timeline varies around six months from kick-off to launch.
Availability
Customers can access your new digital products day and night with no need for shipping. The change in value chains will change the speed of your industry as well.
Transaction Costs & Economies of Scale
Due to digital distribution and the consumer-led production the transaction costs are minimal. In combination with additive manufacturing we face low costs per design which makes highly customized products feasible.
Transport
Decentral production heavily reduces the need for transportation and disrupts supply chains. Let's strive for reduced emissions.
Customer Access
Multiple retail levels make direct customer access and close feedback loops difficult. With Enable 3D we are able to better understand consumer behaviour and depending on the distribution channel generate excellent customer access.
We are open to all industries and are looking forward to push the boundaries of all product sectors.
We recommend to distribute the products where your future customers are.
This includes your own brand homepage, the Enable 3D website and leading marketplaces like Thingiverse. A good mix of distribution channels ensures a high usage and discoverability.